Sample schedule for morning and afternoon classes
Morning Schedule
Afternoon Schedule.
7:00 Wake up, breakfast
7:00 Wake up, breakfast
review, prep
Review and prep
9:00 School starts
Free time
12:40 End of class
12:00 Lunch, School
Free time
13:20 School starts
16:40 End of class, dinner, review
17:00 to 21:00 Part-time job
18:00 to 22:00 Part-time job
Around 22:00 Part-time job ends, and go home.
Around 23:00 Go home
24:00 Bedtime 
24:00 Bedtime
On Saturdays and Sundays are free for study and part-time work

(You can work 28 hours of a week)
How to get a mobile phone or SIM card in Japan:

With the advancement of the times, the function of cell phones has become better and better, even if you bring a Chinese smartphone to Japan, you can still use it just by applying for a Japanese SIM card and inserting it into your smartphone in China. The students who have just arrived in Japan may not be able to communicate with each other, and there are complicated problems, such as contract and procedures, so, as a general rule, the school can process the application on your behalf. Students who need the help should contact the school's administrative staff in advance. Students who have not contacted the school office in advance should complete the paperwork on their own.
Insurance and Medical Care
National Health Insurance
After entering Japan, students must join the National Health Insurance Program. After enrolling in the National Health Insurance, students are entitled to a 70% reduction in medical fees and co-payment is 30% (In special circumstances, it is out of scope.)
When you're sick
Go to a hospital immediately. The nearest hospitals to the school are as follows
日暮里上宮病院
住所:東京都荒川区東日暮里2丁目29番8号
TEL:03 - 3891- 5291(代)FAX:03 - 3891- 5292
In case of an emergency
Call 119 immediately (medevac and fire).
Call the police 110.
Cost of living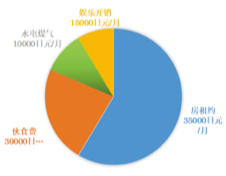 According to official data survey, one international student living in Japan for one month will cost roughly 90,000 yen
* (except for individual exceptions)