Application Qualifications
① 12 years or above oversea education background
② single choice from four
150 or above Japanese learning hours in education institution
JLPT 5 or above
J.TEST F or quasi F or above
NAT-TEST 4 or above
③ Ability to pay during the stay
④ Within 5 years of final graduation
⑤ For the purpose of Japanese learning or university entrance
Enrollment programs・Registration date

Application and Screening
① Please use telephone or email for more info, To fill in the application form and submit before the application deadline, Please pay the JPY¥27,500 selection fee after the approving by school
② After submitting the application form, there will be an interview and examination by our agent in the local. Application materials required will be submitted completed to the immigration bureau, if the school examine and approve the files.
School expenses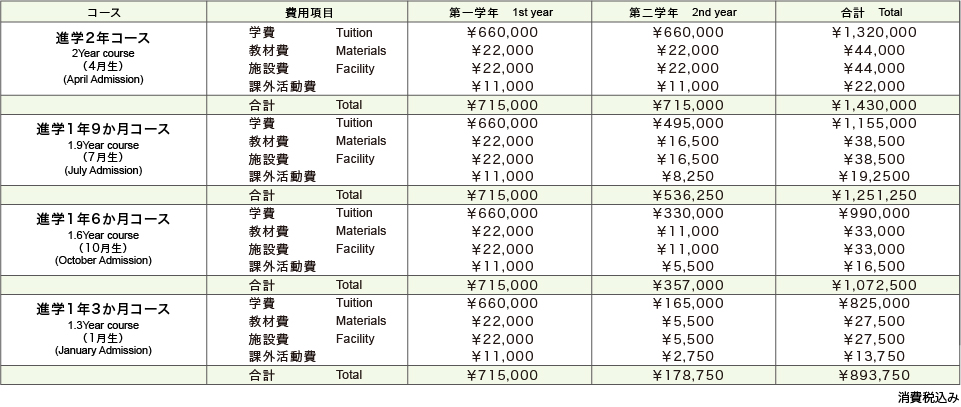 School expenses payment method
According to the tuition bill letter, please transfer your tuition to the designated account by bank.
The first year tuition is required before your registration and must be paid completed for that the school send you the residence permission.
Decline of Admission&Tuition Refund
① In case Japanese Consulate denies your case even if you have obtained resident eligibility, please take tuition refund procedure with our school by yourself and then send us the copy of the page of the passport that proves VISA wasn't issued. We will refund all tuition to student except for selection fee. Bank transfer fee will be paid by student
② In case you don't admit to school for personal reason after you obtained your VISA, contact school as soon as possible and send a letter of decline of admission. We will refund tuition that has been already paid. However, selection fee, admission fee and bank transfer fee will not be refunded.
③ Tuition fees are incurred from the beginning of the course (January, April, July, October). Tuition fees can not be refunded even if arrival to Japan or admission to school is delayed by any reason.
④ Tuition fees for 6 months can not be refunded after entering Japan. If you decline admission after entering Japan, you will receive a refund except for the first six months. However, the refund will be made after confirmation of return your country.
⑤ For withdrawals from school after 6 months of enrollment, if you submit a notice of withdrawal by the end of each semester, the remaining tuition fee for the next semester will be refunded for each semester (3 months).
⑥ However, 20% of the remaining tuition fee will be charged as a withdrawal fee upon refund. Refund will be made after confirmation of returning home or after confirmation of advance to school of higher grade in Japan(The university special course and preparatory course are excepted.) or change of status of residence.
⑦ Tuition fees will not be refunded in case of deregistration caused by violation of Japanese law or breaking the school rules.
⑧ Tuition fees must be paid by the due date. If you do not pay by the due date, you can not attend the class.
⑨ The school will be exempted from responsibility if it is canceled due to unavoidable reasons such as disasters, incidents, accidents, infectious diseases. In that case, the tuition fee can not be refunded.
List of Student Dormitory and Dormitory Fee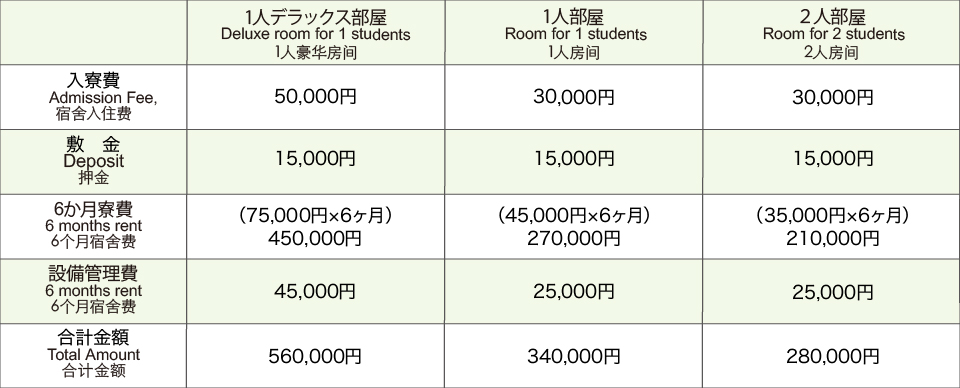 Precautions
① If you want to apply for dormitory, please pay dormitory fee together with tuition.
② In principle, please get into dormitory at least the first 6 months of your study for student management and convenience of guidance and safety.
③ Student Dormitory is a newly-built/newly-reformed apartment so please stay without worry.
④ Depending on dormitory, energy bill and Internet bill can be charged separately or be included in dormitory fee. Please refer to the admission information of each dormitory for detail.